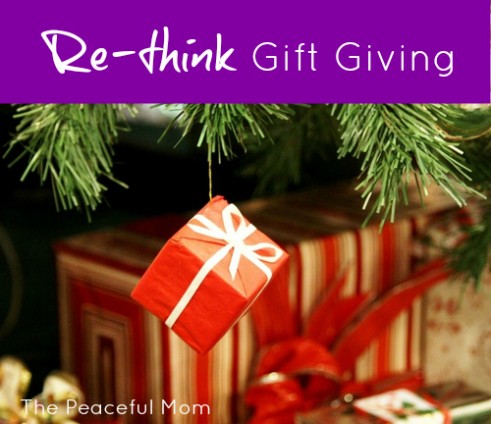 Want to enjoy a Stress Free Christmas? Re-think your gift giving.                       
As Christmas Day approaches, the stress level can increase tremendously as we try to create our vision of a wonderful holiday. Advertising sets up unrealistic expectations: beautifully decorated homes, decadent food and happy faces as each family member opens the "perfect" gift.
It's easy to lose your peace by trying to "purchase" that vision, rather than focusing on what really matters: enjoying one another.
Just yesterday I was in the Walmart checkout line behind a mom who was purchasing Christmas presents for her 3 and 4 year old daughters. She said,"I can't believe I just paid $20 for hair."
Curious, I asked what she was talking about. She explained that her girls had seen the movie "Tangled" and when they saw the "Tangled" hair extensions in Walmart they had to have them. She said they were even fighting over who would wear them so she bought two, even though she thinks they are gross.
This interchange made me wonder why we as parents seem to lose our values when it comes to Christmas. Normally, we would probably have a sane conversation about why we're not going to buy the $20 hair extensions, but at this time of year our "sanity" seems to fly out the window.
In our own family, we have chosen to set a budget for Christmas spending and we inform the children of the budget. We ask them to choose some items they would like to receive that are within the budget range. If there are items that are above the range, they can then choose to save the rest of the money to buy it.
A few years ago, my son wanted a new hand-held game system that was out of our budget range. He saved half of the money and gave it to me before hand, so that he could receive the toy for Christmas. Last year two of my daughters pooled their Christmas money and saved together so they could share a more expensive hand-held game system. They not only learned to save, but also learned relationship skills as they had to work out how to share their new toy. It worked so well that they saved together again to share an Ipod Touch.
I realize that everyone parents differently, so some would disagree with our methods (and may even think them to be cruel). We love our children and want them to enjoy the Christmas season, but we also want them to understand that there are limits in life. I personally believe that allowing my children to have whatever they want without limit encourages them later in life to use credit in order to get what they want, rather saving for items they want to buy.
We set a gift budget for extended family and friends as well. Last year the adults in our family exchanged gag gifts that were under $1. We laughed a lot and have some great memories. We experienced the truth that relationships are more important than gifts.
By setting limits on our Christmas gift giving, we enjoy a much more peaceful holiday season and we are certainly a lot happier in January when we are "missing" those pesky credit card bills!
How do you set limits on your Christmas gift giving? Leave a comment.