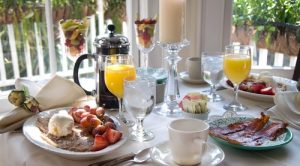 See what we're eating this week on a $100/week budget.  I am blessed to have dinner at two different friends' houses this week, so I won't have to cook!  (Print your own menu planner form here.)
CHECK BACK TOMORROW TO SEE THE GROCERY DEALS I GOT THIS WEEK!
*Previously purchased and in the pantry, fridge or freezer.
BREAKFAST
Organic yogurt with frozen strawberries*
Egg and cheese bagel
Cereal with organic milk x2
Scrambled eggs, grits*
Cheese toast, banana
Bagel with cream cheese*


LUNCH
Quesadillas, refried beans*
Ham and cream cheese* rollups
Nachos
PBJ
Turkey sandwich, apple slices
Salad with Italian chicken
Apple slices with peanut butter, popcorn


DINNER
Chili (ground beef*, kidney beans*, tomatoes*, spices*)
Hot dogs, potato chips
Potato soup (potatoes*, onions*), cheese toast
BBQ chicken, rice*, broccoli*
Frozen Pizza
Dinner with friends x2


Click here for more Menu Planning Ideas!