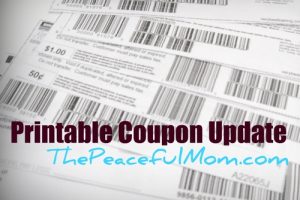 New high value coupons available including FREE Excedrin and Buy One Get One Free Land O Frost coupons!
$.50/1 Driscoll's Berries (click on right side and register)
FREE Excedrin (register for both offers!)
$1/1 Hersheys Pot of Gold Candy 6.7 oz.+
BOGO Land O Frost Lunchmeat (click coupon tab on top right and register)
$1/1 Oscar Mayer Lunchables Lunch Combination (Mfr. coupon on Target site)
Print these coupons directly from The Peaceful Mom.com
$1/1 Coast Body Wash or Bar (the bar will be the best deal)
$2/1 Listerine Whitening Rinse
$1.50/2 Nestle Jingle any size bag
$.50/2 Pillsbury Pie Crusts
$1/1 Wonka Exceptionals 3.5 oz. or 4 oz.
$.55/1 Wonka Fantastical Fun Book
(Thanks to Couponing for 4, Printable Coupons and Deals