Need some stress free meals? Plan these easy crock pot meals for busy days so you don't spend money eating out.
(As always, if using any of these recipes for a gluten free diet, check all your ingredients to make sure they're gluten free!)
BBQ Chicken Nachos
Place 3-4 boneless, skinless chicken breasts in the crock pot, cover with a 1/2 a bottle of your favorite BBQ sauce and cook on low for 4-5 hours.  (Any longer makes the meat too dry.)
Shred meat with a fork and place on tortilla chips.  Top with colby jack or cheddar cheese and broil in the oven until cheese is melted.
(If using this as a gluten free recipe, make sure your chips are gluten free!)
White Chicken Chili
2 cups shredded cooked chicken
2 cans Great Northern or Navy beans (rinsed and drained)
14.5 oz. can diced tomatoes with green chilies (do not drain)
14.5 oz. can chicken broth (or 2 cups homemade broth)
1/2 tsp. each garlic powder, onion powder, cumin
1 Tbs. chili powder
1 tsp. hot sauce.
Combine ingredients and cook on low for 6-8 hours.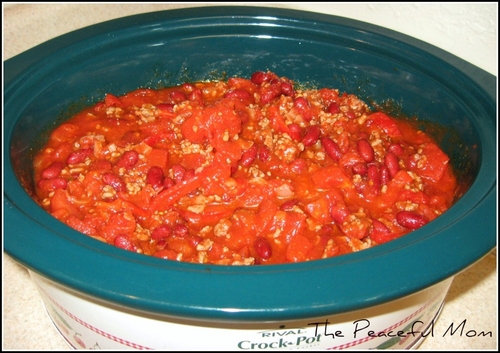 Crockpot Chili
1 lb. browned ground beef (I pre-cook mine and have it in the freezer)
(2-3)  14.5 oz. cans kidney beans (I also pre-cook these and freeze them)
(2)  28 oz. cans diced tomatoes
14.5 oz. can tomato sauce (I often use leftover spaghetti sauce)
2 Tbs. chili powder
1 Tbs. cumin
1 Tbs. garlic salt
Combine all ingredients and cook on low for 6-8 hours.


Sweet and Sour Kielbasa
1 cup brown sugar
3 Tbs. spicy brown mustard
2 lbs. smoked fully cooked kielbasa, cut into 1″ pieces.
Combine brown sugar and mustard in 3-4 quart crock pot; add kielbasa, and stir to evenly coat. Cover crock pot and cook on low-heat 2-1/2 to 3 hours, stirring occasionally, until kielbasa is thoroughly heated and glazed.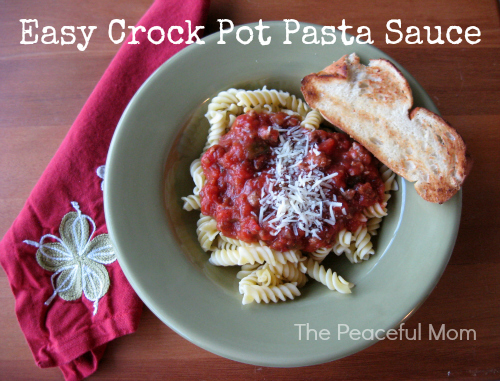 Italian Sausage Pasta Sauce
Recipe here. Serve over pasta (rice pasta for gluten free!) or rice.
All recipes and suggestions are given with the understanding that this author is neither a nutritionist, nor has any medical training. The author is simply sharing recipes that she has used and takes no responsibility for results that may occur in your situation. You should seek the advice of a certified nutritionist and or your medical professional, especially if you use a gluten free diet for medical reasons.

You May Also Like: