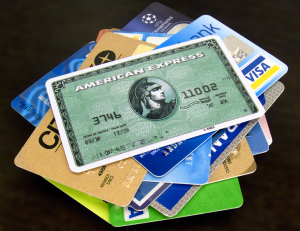 We're different, and proud of it! We are part of a minority of Americans who choose not to have any credit cards.
I haven't always been different. My father gave me a credit card at age 13 "in case of emergencies". A few weeks later I had an emergency need for a diamond and ruby ring. This made my father rethink his decision, but my mindset was formed: Credit was a good thing.
As soon as I graduated from college, I applied for my own card. I immediately used it to buy "necessities" like designer bedding and work clothes. I felt that I needed these things and by using credit I didn't pay any attention to the price tag. Imagine my surprise when I received a bill three months later that said I owed $3000 to the credit card company!
I made minimum payments on that $3000 for years and even added to the balance. By the time I met and married my husband I had $6000 on the card. I would have had more, but $6000 was my credit limit.
Thankfully my husband had been wiser and never had a credit card. He didn't have a strong conviction though, so when we married I just continued my minimum payments and went on with life. Going on with life meant having a baby in the first year and deciding to stay home inspite of our financial situation. We then added babies number two and three, a move to another state, a car payment and finally baby number four. We were in trouble.
We limped along for a few years until we decided to move back to our home state. Housing was cheaper and the sale of our home would provide enough money to pay off our car and our credit card debt. It seemed to be the perfect solution until we arrived and discovered that the job my husband had been offered didn't exist.
Even though my husband was able to get another job relatively quickly, the pay wasn't as good and we had used up the money we received from the sale of the old house for living expenses. Within a few months our new home was in foreclosure and after much anguish, we decided to declare bankruptcy. It was a humiliating experience and wrecked me emotionally for years.
I learned a few lessons from that experience, the primary one being that credit is not good for me. If I cannot afford to buy something with cash today, why do I think I will be able to pay for it in the future? Never mind the accrued interest and fees — it seems credit card companies tack on a $39 fee just for looking at the bill.
There are a few people who can keep one credit card, use it with discipline and pay it off at the end of the month. I am not that person so our family will continue to be credit card-less (and happier for it).