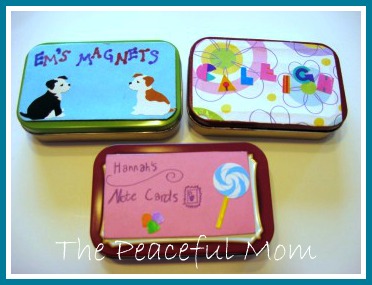 Make these simple kits for kids to take on car trips!

To decorate the outside of each tin:
Cut a flat magnet to fit the top of the tin.  Adhere craft paper to the magnet and decorate with markers and stickers.  You can make several of these so that the kit has interchangeable covers.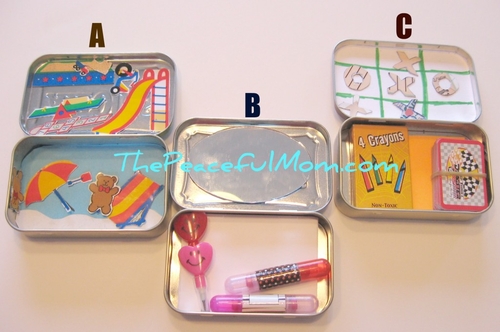 A- Magnet Play Scene Kit
Decorate the outside according to the instructions above.
Choose stickers that display a scene such as a play ground or beach.  Place stickers onto flat magnets (we recycle advertising magnets that we receive in the mail.)  Cut around the stickers so that the magnets don't show.
Cut paper to fit the bottom of tin and create a background.  We used sky blue and placed a curved piece of paper to represent sand.  Place the magnets in the tin.
B. Note Kit
Decorate the outside as noted above and fill the tin with mini pens, mini stampers, mini crayons (party supply store) and blank note cards so the recipient can decorate the notes themselves.  We also included a magnet mirror (available in craft stores) on the inside lid and mini lip gloss.
You can view my daughter's video here for complete instructions to make this kit including the mini note cards and envelopes.
C. Game Kit
Decorate the outside using the instructions above.
Make a tic-tac-toe board by cutting craft paper or card stock to fit the inside lid and drawing a grid on it.  Make the x's and o'x by cutting advertising magnets into the appropriate shapes or place letter stickers on the magnets and then cut around them.
Fill the kit with mini playing cards, two mini pens, mini Post-It notes (for word games).
You May Also Enjoy: