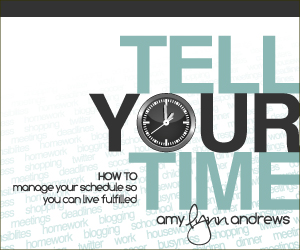 Amy Andrews (virtual assistant to Crystal Paine of Money Saving Mom) has written a great resource to help you get more organized: Tell Your Time.
This e-book shows you step by step how to prioritize and organize your day.  Organizing Amy's way ensures that you are accomplishing your goals in the areas that matter most.  Her creative approach enables you to step back and really think about why you have those activities on your to do list.
And you can get this e-book for 50% off starting tonight (Friday 11/26) at 12:01 a.m.!
Just click HERE and add the coupon code: MONDAYBLACK to your shopping cart when you check out.
The sale ends Cyber Monday (Nov. 29) at 11:59 p.m. so don't wait!