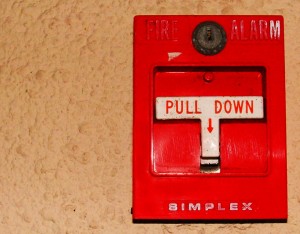 Holiday excitement plus autism-spectrum disorders can equal disaster, but not if you know where the fire exits are.
As a mom, you want your children to enjoy the holidays.  As a mom of a special needs child, you may just want to survive!  To experience a smoother holiday season, keep these keys in mind:
Maintain Structure– I know I write this often, but I cannot over-emphasize this point! Children with Aspergers and other autism-related conditions are easily overwhelmed by changes to their schedule and environment.
As much as possible, keep a regular routine: meal times at regular intervals, consistent bed time and bed time routine, consistent routine when leaving the house (make a check list: comb hair, put on shoes, grab coat, get in the car, etc.).  Keeping a consistent structure enables your child to remain calm in the face of other changes because his basic routine is the same.
Limit Activity- Carefully choose which activities you will participate in.  Too much exposure to new people and places can lead to a melt down and that means no one has fun.  Make sure to include quiet activities with your family and ask your child what he enjoys about the holiday season.
Give Advanced Notice- Have a calendar on your refrigerator with all of your planned activities.  Talk about what you will be doing, who will be there and what will probably take place.
You will also want to talk to the hosts of any parties you are attending and let them know about your child's needs.  Let them know to talk to you if they see a problem and have them talk to their children if it is appropriate (ex: "If you see Craig start to get frustrated, come and tell Mom immediately.").
Instruct Explicitly-Give your child specific instructions about what to say and what to do.  Children with Aspergers need explicit instructions about how to act in social situations because they do not naturally pick up on the clues that most people understand implicitly.  If your child is younger talk about not grabbing toys or touching other children.  If she is older, discuss appropriate and inappropriate topics ahead of time.
Practice Coping Strategies– Talk to your child about how he is feeling or if he is too young, learn the signs of an impending melt-down.  Talk about ways to cope with his over-load such as breathing techniques, removing himself to a quiet place to calm down or taking a short walk with you.  You can even create a signal (such as quietly putting his hand on your arm without interrupting), so your child can let you know in a quiet way that he needs help.
Make a Back Up Plan- If your child is having a bad day when you have an event to attend, you will want to have an alternative.  Plan ahead for a relative or baby-sitter you have used before to be on stand-by.  Taking an over-stressed child to an event that will stress them even more just means bad news for both of you.
Keep a Positive Attitude-Being the parent of a special needs child is difficult and draining at times, but also rewarding.  Your child has skills, talents and personality traits that make him unique in the world and a gift to you as a parent.  Make sure that you have time away from your child to recharge and then do your best to enjoy the time you have with her rather than wishing things were different.
For more articles on Coping with Aspergers, go here.
©2010 The Peaceful Mom-No material on this website may be reprinted in any form without the express written consent of the author.   Please note that this post is not intended as professional advice, but simply the author's personal opinion.  You should seek professional advice if your circumstances require it.