Isn't it interesting how life unfolds?
A few years ago my husband and I took a rare weekend trip to the beach. I love watching the sunrise on the beach so I got up early the first morning to walk on the shore and enjoy the quiet beauty.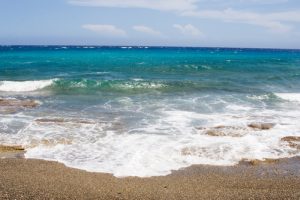 As I walked along, I decided to pick up sea shells. All of the ones that I found were small and many of them were broken, but I collected them because I didn't have any at home and I thought they were pretty.
After a few minutes of collecting, my hands were so full that I couldn't pick up another shell. At that moment I felt God say in a quiet voice,"Put the shells down."
I argued,"But they're the only shells I have. I want to take them home."
I held on to the shells and kept walking. I heard His quiet voice again,"Put the shells down." I didn't understand, but I knew that I had heard God's voice so I put the shells down.
I contemplated what God could be teaching me as I continued to walk and then I looked ahead. I saw a larger shell and as I got closer I realized that it was a conch shell. I picked it up to examine it and saw that not only was it large, it was perfect.
I realized immediately that it had taken faith to obey God and put those other shells down because I couldn't see why He wanted me to drop them. They were all I had, but God had something much bigger and better for me. I only had to let go of them so that I could receive it.
Shells are one thing, but a life time of accumulation is another.
As our family is preparing to move in order to attend a training school, there are a lot of shells to put down. The first phase is easy: decluttering and ridding ourselves of trash and items that we don't need.
Now we're in the difficult phase: what to do with useful, necessary and sentimental items.
It made sense to us to put our furniture into storage during our five month training because we don't know what's going to happen afterward. What makes sense to us, however, is not always God's plan.
God convicted me yesterday that I'm holding on to my stuff because I can't see what's ahead. It requires faith to let go and trust that He will provide what I need when I need it. I need to put down the shells.
You know what's really sweet about God? He doesn't waste anything.
For the last 18 months we've rented a house from a family who left everything to go overseas for a job. They recently returned and as we met with them last night we found that they "just happen" to need all the furniture and household items that we need to get rid of.
God is so gracious to let me know that when I drop these shells He will be using them to provide for someone else. I know that if He will do it for this family, He will also provide for ours.
You May Also Like:
©2010 The Peaceful Mom-No material on this website may be reprinted in any form without the express written consent of the author. Please note that this post is not intended as professional advice but simply the author's personal opinion. You should seek professional advice if your circumstances require it.