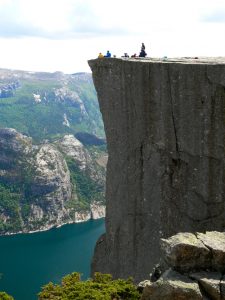 54 days until we take the biggest leap of faith of our lives!
I usually feel like there's a lot to be done and not much time to do it in, but now that feeling is reality.  We are moving our entire family of six to another state for a training school and there is A LOT left to do!
I was starting to feel a sense of normalcy return after we finished an entire month of yard sales, but I still have many items to get rid of and the time is growing shorter.
Some days the entire plan seems crazy, but we KNOW that we heard God's voice and we trust His plan.
Yesterday was a particularly stressful day and left me feeling emotionally drained, so when I woke up this morning I was in need of some encouragement.  God knew just what I needed.
I found a recent blog entry from friends of ours who have taken this crazy leap also, only with SIX kids instead of four!  They sold everything they had (including their car) and left for school, even though they still needed $8000 for the tuition.  Some of the money came in over the weeks that they have been there, but they were still $5000 short and the absolute deadline was last week.
They were about to be sent home, but the school administrators prayed and decided to give them the weekend until 3:00 p.m. on Monday.  As of 2:54, all of the money was still not there.  As of 2:56 it was.
God is faithful.  Even when I don't see His provision, it is there.  I am simply asked to take the next step with Him and trust that even though it looks like I am falling off, I am on sturdy ground.