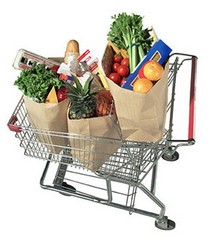 See how I feed my family of six for around $400/month.  Here are this week's shopping totals.
Sorry-no photos this week.  My camera and my computer aren't speaking and I'm not sure how to get them talking again. You can check out my new video Easy Menu Planning here.
Weekly Total: $140.24 food  $4.95 nonfood ($252.85  value)
($100/wk budget for 6 people including two teens and two preteens.)
November Monthly Total: $140.24 food and $4.95 nonfood ($252.85 value). Join us on Facebook to receive instant blog updates.
I'm over budget, but I was able to stock up on a few items like lunch meat that we will use for the next two months, so I am okay with the overage.  You can see this week's Best Grocery Deals and this week's Menu.
KROGER
I spent $51.17 for $93.00 worth of groceries.
Highlights:
$.49 Annies macaroni and cheese (organic)
$.49 Kroger canned peaches
$2.49 Kroger 16 oz. Cheese bars
$1.25/lb Kroger ground beef
$1.00 Kroger cream cheese
$.98 Kroger eggs
INGLES
I spent $25.92 for $43.67 worth of groceries.
Highlights:
$.98 30 ct. corn tortillas
$2.50 10 lb. bag Green Giant Idaho potatoes
$2.50 4lbs Florida Navel oranges
$1.49 16 oz. fresh strawberries
$.99 carton 4 large tomatoes
WALMART
I spent $68.15 for $116.18 worth of groceries.
Highlights:
$1.95 Hormel Naturals lunchmeat
$1.48 tortilla chips
$1.18/lb green seedless grapes