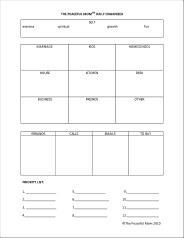 Click here to print The Peaceful Mom Daily Organizer 1 (Relationships and Responsibilities section filled in).  Follow these easy steps to start using the planner.
The Daily Organizer is divided into four sections:
Self– How I need to take care of Me so that I can meet everyone else's needs
Relationships and Responsibilities-All the important people and tasks that need to be taken care of
Daily To Do-The little things that have to be done

Priority List-A numerical ranking of my priorities for the day
Step 1- Personalize
If you are using the blank form, think about your primary relationships and life responsibilities and fill in one in each block.  You can then make multiple copies (for your personal use only–copyrighted material)  or if you would like to contact me I can personalize a form for you.  If you are using my form you can skip this step.
Step 2- Brainstorm

Think about what you would like to get done in each area and make lists within each block.  Don't worry at this point about which things are more important or which should be done first.
Step 3- Categorize
Now you should look over each of the lists and place an A beside the items which you absolutely have to or want to get done today.
Step 4-Prioritize
The last step is to take the A items from your list and write them in order of priority on the numerical list.  Ask yourself: "If I can only get one thing done today, what would that be?"  After that item, continue to ask yourself if you could only get one more thing done, which item you would need to do.  If you run out of A priorities and still have room, add your B priorities.
If A items aren't completed, simply move them to the sheet for the next day and throw it away.  You may find out that something you thought was an A priority was actually a C or a D and it naturally fell off the list.
Prioritizing your activities in this way enables you to focus, eliminate distractions and accomplish what is truly most important to you today and over the long-run.  Don't shortchange your values for a day full of meaningless activities.  Focus on what is important and live a purposeful life.
©2010-2011 The Peaceful Mom-No material on this website may be reprinted in any form without the express written consent of the author. Please note that this post is not intended as professional advice but simply the author's personal opinion. You should seek professional advice if your circumstances require it.
You May Also Like:

Daily Planner 2