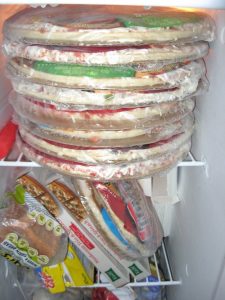 I spent less than $100 this week to feed our family of six and I was still able to stockpile a few frozen pizzas.
I'm really missing my chest freezer, but there is no point in stockpiling lots of food when we are moving in less than 8 weeks!
This week I spent:
$29.19 at Walmart-bread, produce, $1.95 Hormel Natural lunch meat, butter, nitrate-free hot dogs, chips
$42.92 at Ingles-cereal, gluten free items, Stonyfield organic yogurt, produce, boneless skinless chicken breasts and more
$23.66 at Kroger-Tombstone frozen pizzas, Eggo Waffles, Kroger cheese
Total spent: $95.77 Under budget!
You Might Also Be Interested In:
Grocery Deals You Don't Want To Miss 10/29
My Top Five Ways To Deal With Stress