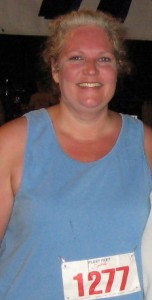 I did something last night that I never thought I would do. I ran a 5K (and yes, I was actually smiling afterward). 
This may not seem like a big deal, but I am over 40 and "pleasantly plump". As my daughter put it,"I can only run a little bit and it's hard to breath."
I ran for the very first time (since my college days) the week after Labor Day, just 6 and a half weeks before the race. I had no intentions of keeping it up, but for some reason I liked the challenge of running a little bit further each time I went out.
During my "training", the farthest distance I had run was 2.4 miles and the last time I ran (earlier this week) I could hardly make it a mile.
But I was determined.
I wanted to be able to say that I ran the entire race without stopping to walk and I did! I made it in 43 minutes. Believe it or not, I wasn't the last one in either!
Accomplishing this feat has made me rethink other boundaries I have put on myself. I'm looking forward to trying some new things in the coming months.
You May Also Enjoy: