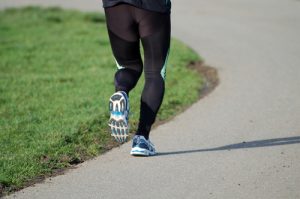 I recently started running. As one of my friends said,"Why? Was a dog chasing you?" No dog, but I am learning some lessons from it.
(Disclaimer: this is not a photo of my actual legs, but does represent what I would like them to look like one day.)
It's All In My Head
Running is actually more mental than physical. My body can do things I don't think it can, but I have to MAKE my body do them. I have to set my mind to get to the next mailbox.
Life is the same way:  I have to set my mind to accomplish things I don't think I can. Colossians 3:2 says," Set your minds on things above, not on earthly things." I have to choose to focus on the things that really matter–eternal things like relationships.
It's All About Me
Running is personal. I can read about it, I can watch and even admire others for doing it, but it has no effect on me unless I do it myself.
It's the same way with life. I can read about or admire other people's frugality, success or amazing calf muscles, but it won't accomplish anything in my own life if I don't take action myself.
Less Equals More
I took five days off from running, which I naturally thought would make running more difficult when I returned. Actually it was much easier and I went from running .5 mile to running 1.2 miles!
In life, taking time to rest when I need it means I accomplish more later. I can't ignore the signs telling me that I am over-stressed.
This principle can also work with finances. Sometimes I need to take a break from the hard work of budgeting to squeeze a dime out of every penny and just have fun. I just have to make sure that the fun doesn't cost a lot or I'll undermine the work I have already done.
Don't Quit!
Let's face it, it's unlikely for someone as overweight and un-young as I am to be able to run at all, much less to continue running for longer than 3 minutes. But I can do all things through Christ who strengthens me.
Even though something seems unlikely, difficult or even impossible, with God's help I can do it.
Use the Bathroom Before Starting
No spiritual lesson here, but I have found a use for those Depends I got at CVS.


You May Also Be Interested In:
My First 5K


©2010 The Peaceful Mom-No material on this website may be reprinted in any form without the express written consent of the author.   Please note that this post is not intended as professional advice but simply the author's personal opinion.  You should seek professional advice if your circumstances require it.