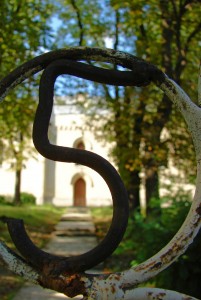 [UPDATE: I wrote this post in October of 2010 when we were in the middle of a stressful move–just a little tongue-in-cheek look at dealing with stress.:)]
Top Five Ways to Deal With Stress–If you have been following along, you know that we are selling everything to attend a training school so that we can take an overseas position. As you might imagine, things are a little stressful right now.
Last week we moved everything we don't "need" onto the main floor of our home in preparation for a "yard" sale.  Sorting through many years of stuff took brain power that I didn't have to begin with.
We did make some money at the sale, but it seems that nothing actually sold because my dining room and living room are still full of things that need to go. I decided to leave them there until we can have another sale–possibly a bad idea.
I am totally off my schedule of planning meals and couponing. I haven't even looked at a coupon for at least a month and I even gave my coupon box to a friend.
In the midst of all of the craziness we are still trying to home school as well.
In light of these developments, I thought I would share my top five ways of dealing with stress:
Eat Chocolate!– Hershey's chocolate bars with almonds, Snickers Ice Cream Bars and Oreo Double Stuff Cookies are at the top of the list.  (They are especially good when consumed together–not that I have any experience with that.)
Exercise-I decided to start running (more on that later). I have heard that it reduces stress, although for me it may be causing more stress than it is relieving. I also go up and down the stairs in my house at least twice a day.
Order Pizza– In my defense I did make my husband pick it up on his way home so we didn't have to pay a tip.
Refuse to Cook-(which goes along with tip #4) Eat hot dogs, potato chips and sandwiches as much as possible.
Eat Cashews-I recently found out that eating 10 cashews a day has the same effect on your brain chemistry as taking one Prozac. I am sure that eating half of a nine ounce container must be even better!
I hope that you find these methods as helpful as I have. Please do not email me about excessive weight gain or bloating caused by any of the above tips.
You Might Also Enjoy:
Help My Life Is Out Of Control!
©2010 The Peaceful Mom-If you would like to re-print any material from this site, please contact me: kimberlee (at) thepeacefulmom (dot) com. Also, please note that this post is not intended as professional advice but simply the author's personal opinion.  You should seek professional advice if your circumstances require it.