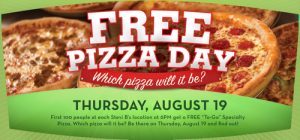 Don't forget Stevi B's Second Annual Free Pizza Day is today! 
A twist has been added to this year's event.  Instead of a "build your own" pizza, the giveaway will one of Stevi B's surprise specialty pizzas To-Go.
Beginning at 6 p.m. on Thursday, August 19, Stevi B's will give the first 100 customers a surprise specialty pizza To-Go at each of its locations.  Customers will not know what they're getting until they are in line at Stevi B's.
All of the pizzas are made with fresh ingredients so no one should leave disappointed.