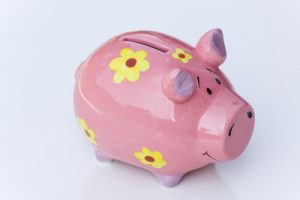 Need some quick ideas for saving money?  Here are five things I do every day.
Hang Some Laundry– Hanging just one load of laundry a day will significantly reduce your power bill.  We cut our bill by $50/month doing this alone.
Adjust the Thermostat-Turn the thermostat up two degrees in the summer and down two degrees in the winter and save a minimum of $20 on your power bill this month.  In the summer, use ceiling fans or oscillating fans when you are in the room (They only circulate air which makes you feel cooler, but waste electricity if left running.)
In the winter, wear more clothing layers.  You probably won't notice the difference but your electric meter will.
Check Your Pantry-Checking the pantry and freezer on a regular basis will prevent you from wasting food because it expires before you use it.  It will also keep you from running to the store because there is "nothing in the house to eat."
Look at the Menu– Having a weekly menu will reduce your grocery bill, keep you from running for fast-food and enable you to maintain your sanity.  I spend about 30-45 minutes once a week checking sales ads, cutting coupons and planning a menu.  I check the menu every morning and do any prep work like thawing meat, cutting vegetables, etc.  When 5:00 comes around and I am too tired to think, dinner is already half-done.
Plan Your Outings– Planning errands enables you to better manage your time.  It also means you have less wear and tear on your car and use less gas.  I try to limit my errand days to two per week.
You may also be interested in:
Saving Money in the Laundry Room
Saving Money in the Home Office