I fed our family of six for less than $360 this month!
Weekly Total: $72.48 food  $15.07 nonfood ($188.65  value)
($100/wk budget for 6 people including two teens and two preteens!)
July Monthly Total: $357.18 food and $44.33 nonfood ($817.63 value). Join us on Facebook to receive blog updates.
Read here why I shop at multiple stores.  See this week's CVS shopping here.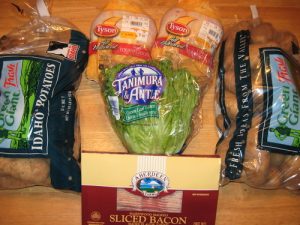 INGLES
I paid $20.18 for $30.19 worth of groceries.
Highlights:
$2.50 10 lb. bags of potatoes
$.78/lb whole chickens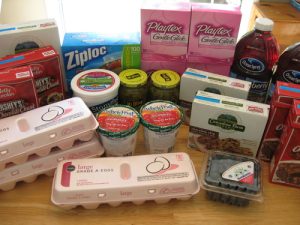 PUBLIX
I paid $39.44 for $111.16 worth of products (65% savings). (Not pictured: 8 additional boxes of Playtex).

Highlights:
$.87 Playtex Tampons (reg. $4.25)
FREE Ocean Spray Blueberry Juice Drink (printable coupon)
FREE blueberries with purchase of  Ocean Spray (Adv. Buy Flier Coupon)
$.99 eggs
$.92 Betty Crocker Brownie Mix
$1.37 100 count Ziplok Sandwich Bags ($1/2 Publix Baby Coupon + $1.25/2 from 7/25 SS)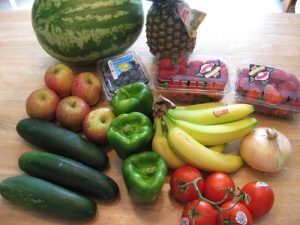 WALMART
I paid $23.63 for $32.11 worth of groceries. (not pictured: 4.6 lbs of fresh peaches.)

Highlights:
$.50 cucumbers
$.78/lb peaches
$1.38 16 oz. strawberries
$1.98 pint blueberries
You may also be interested in (click on link to read):
Fun Friday Weekly Menu 7/30/10