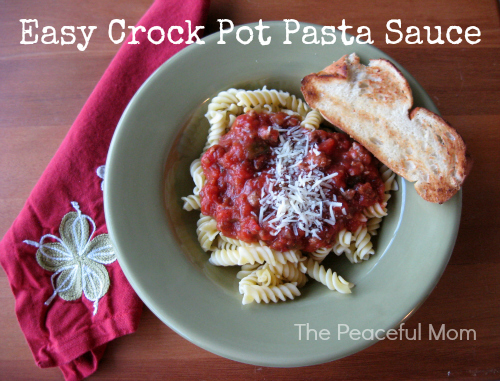 Easy Crock Pot Recipe: Italian Sausage Pasta Sauce
This super easy and tasty recipe makes a large crock pot full of sauce, so it's one of our favorites for entertaining or for freezing for later use. (Scroll down for alternate recipe.)
Ingredients
1 large green bell pepper, diced
1 medium onion, diced
1-2 Tablespoons extra virgin olive oil
2 lbs. Italian Sausage (without casing)
(3) 28 oz. cans of CRUSHED tomatoes (use crushed for best flavor)
1-2 Tablespoons dried basil
Salt to taste (I start with 1 teaspoon and add if it needs more.)
1 cup sliced black olives (if desired)
Instructions
Saute green pepper and onion in olive oil until the onion just begins to turn translucent.
Add sausage to the pan and brown it, breaking up larger pieces.
Place sausage mixture in the crock pot.
Add crushed tomatoes.
Add spices and olives if desired.
Cook on low 4-5 hours depending on your crock pot.
Serve over pasta or rice.
This recipe has a rich tomato flavor. If you would like a more subtle taste, substitute tomato sauce for the crushed tomatoes.
Alternate Recipe:
Brown six Italian sausages in casing. Place on the bottom of the crock pot. Cover with two 28 oz. cans of crushed tomatoes, 2 tbs. dried basil and a pinch of salt. Cover and cook on low for 4-6 hours. Serve sausages whole, cover with sauce.

You May Also Enjoy: