Simple Gluten Free: Simple and yummy-Easy Potato Soup.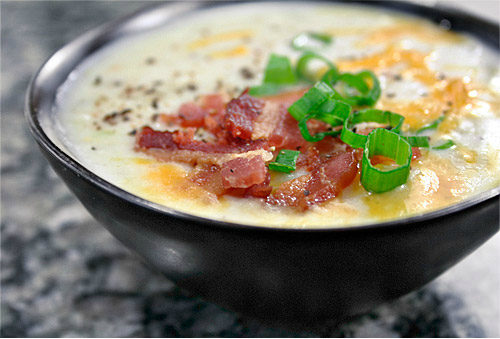 I had planned on making baked potatoes last night, but my potatoes were in bad shape. I actually bought them 3 months ago! One of my girls suggested potato soup which we haven't had in a long time.
Here's my recipe:
An easy and tasty recipe from The Peaceful Mom!
Ingredients
1 large onion diced
3 Tablespoons butter
32 oz. chicken stock
8-10 large potatoes, diced (we do not peel ours, but you may prefer yours peeled)
Salt and pepper to taste (use less salt if your stock is very salty)
1 Tablespoon dried parsley (optional)
1-2 cups milk or cream depending on your taste
toppings (optional): crumbled bacon bits, diced green onion, shredded cheese
Instructions
Melt butter in a large stock pot. Saute onions until translucent. Add chicken stock, potatoes and spices and bring to a low boil. Turn heat to low/medium and cook for about 15-20 minutes or until potatoes are soft.
Remove from the heat, add milk or cream and use an immersion blender to blend some of the potatoes (this thickens the soup). You can also remove 1 or 2 cups of the soup and blend it in a regular blender before adding it back in.
We served this with crumbled bacon pieces, shredded cheese and sour cream. Garlic toast (make with GF bread) makes a nice addition as well.
https://thepeacefulmom.com/2010/07/23/simple-gluten-free-easy-potato-soup/
For more easy recipes, click here.
I'm linking up to Gluten-Free Wednesdays!
All recipes are given with the understanding that this author is neither a nutritionist, nor has any medical training. The author is simply sharing recipes that she has used and takes no responsibility for results that may occur in your situation. You should seek the advice of a certified nutritionist and/or your medical professional.