After two weeks of below-budget shopping we definitely caught up this week!
Weekly Total: $129.86 food  $5.65 nonfood ($257.57 value)
($100/wk budget for 6 people including two teens and two preteens!)
July Monthly Total: $284.70 food and $29.26 nonfood ($628.98 value). $115.30 left for the month.  Join us on Facebook to get instant blog updates.
Read here why I shop at multiple stores.  See this week's CVS shopping here.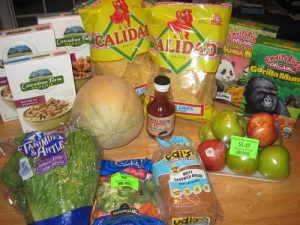 INGLES
I paid $27.75 for $41.37 worth of food.
Highlights:
Organic Cereal $2.50 (reg. price $4.99)
Gluten Free Bread $3.98 (reg. price $4.28 and up depending on store)
PUBLIX (sorry no photo)
I paid $13.55 for $33.92 worth of products.
32 oz. Horizon Organic Yogurt $3.59
(2) 3 packs Bic Soleil Razors  FREE plus $.25 overage (reg. price $3.89)
(1) 22 oz. bag Mission Tortilla Strips $.2.50 (reg. price $3.89)
(2) 4 packs StarKist Albacore Tuna $3.60 each (reg. price $7.19)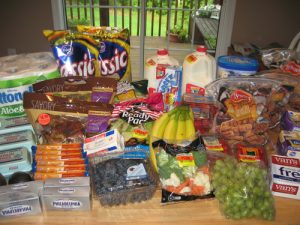 KROGER
I got so much food I couldn't fit it all in the picture!  I paid $92.55 for $145.34 worth of food.
not pictured:
2 Haas avocados $.88 each
pkg of 8 clementines $1.29
(3) green bell peppers $.69 each
(3) cucumbers $.50 each
(2) Santa Cruz organic lemonade $1.25 each (reg. price $2.99 each)
Highlights:
(3) 2.5 lb bags Tyson frozen chicken wings $4.44 (reg. price $8.99 each)
(1) Van's Gluten Free Frozen Waffles $2.99 (reg. price $3.49)
(6) 8 oz. Kraft Block Cheese $.50 each ($5/10 items plus $5 catalina wyb 5 Kraft products)
(4) 8 oz. Philadelphia Cream Cheese ($5/10 items plus $5 catalina wyb 5 Kraft products)
(2) gallons Horizon Organic Milk $2.99 each (reg. $5.99)
You may also be interested in:
Fun Friday Weekly Menu 7/23/10