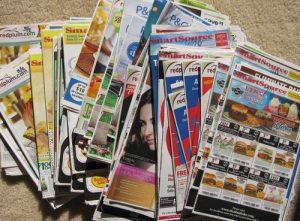 I have been "obsessively" couponing for over 2 years now and I have to say there are times when I'm tired of the whole thing.
If you have been using coupons for a long time, you have probably faced the occasional case of coupon burnout as well.  You know, the times when you can't stand to look at another Sunday paper insert and you don't care if the deodorant is free-you're not printing the coupon.
This week is a good example.  I am trying to enjoy our last two weeks of summer and I'm completely over grocery shopping, much less cutting out coupons.  I still need to stick to the budget so here are a few of my coping techniques:
Shop the Sales–  Even though I don't feel like cutting out coupons, I can still base my menu around the sale items to make sure that I don't totally blow the budget.
Use the Stockpile-I am cleaning out the pantry and the freezer.  This ensures that older food is used before it goes bad and keeps the grocery bill lower.
Plan Easy Meals– Planning and cooking are actually draining for me, but a necessity in order to stick to the $100/week budget.  In order to compensate I have been preparing a lot of quick foods like Taco Salad, Hot Dogs, Nachos and Rotisserie Chicken and Salad.
I still bought the Sunday paper, but I didn't even look at the coupons.  They are in a pile that will have to be dealt with later.  Sure I probably missed some of the best deals of the century, but my sanity was worth more than 10 more bottles of free shampoo.
You may also be interested in reading these articles:
Sympathy for the Coupon Challenged