Another awesome week- I paid less than I would have paid for one newspaper and got lots of free stuff!  
CVS Best Deals 7/18-7/24 here.  CVS Best Deals 7/25-7/31 here.

If you are new to CVS, go here for an explanation.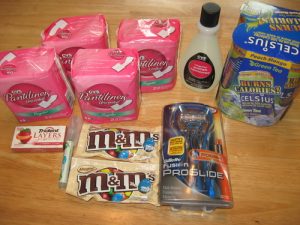 I paid $1.66 for $36.94 (96% savings) in products and left with $9.99 ECBs! (not pictured: Sunday newspaper)

Transaction 1 (starting with $7.99 ECBs)
(1) Celsius Green Tea 4 pack $7.99
(1) Gillete Fusion Razor $9.97 (reg. price $12.99)
(1) CVS Hand Sanitizer Spray Pen $1.99
(1) Trident Layers Gum 14 ct. $1.49
Total before coupons: $22.48
Coupons:
$4/$20 order CVS email coupon*
$2/1 Celsius printable coupon
Free CVS Hand Sanitizer Spray Pen- CVS email coupon $1.99 value
Free Trident Layers- CVS coupon $1.29 value
$4/1 Gillette Fusion Razor 6/6 PG
$7.99 ECBs (from last week)
Total spent: $1.21 and I received $12.99 ECBs ($5 Gillette, $7.99 Celsius)
*The key to making the most of the $4/$20 order coupons is to buy items that total as close to $20 as possible and to include items that you have coupons for AND that give ECBs back. Coupons for free items really sweeten the deal!

Transaction 2
(4) CVS Pantiliners $.50 (reg. price $1.00)
(2) M&M Candies $.50 (reg. price $.89)
(my store was out of the Pretzel M&Ms and let me substitute Almond)
(1) CVS Nail Polish Remover $1.99
Total before coupons: $5.30
Coupons:
$5 ECBs from Transaction 1 (adjusted to $4.99)
Total spent: $.31 and I received $3 ECBs ($2 Pantiliners, $1 M&Ms)
Transaction 3
(1) Double Coupon Newspaper $3.00
Total before coupons: $3.14
Coupons:
$3 ECBs from Transaction 2
Total spent: $.14 and I received no ECBs