It is a readily accepted rule of society that your yard belongs to you and no one should trespass or play around in it without your permission. Most people respect this rule and do not walk in other people's yards, but if your neighbor is someone who tends to do whatever he wants and is often seen letting his dog poop on your property, what are you going to do about it?
Other than call the cops, you will probably build a fence.
We need fences in our yards, but we need fences in our relationships as well.
Fences in our relationships are called boundaries and boundaries are one of the most difficult areas for many people to deal with. Why is it so difficult to create appropriate boundaries in our relationships?
Lack of Modeling – Those who have grown up in dysfunctional homes (due to alcoholism, work-aholism, addictions, abuse, severe anger or other issues) grew up with parents who had no boundaries themselves and were unable to teach their children how to relate in healthy ways.
Guilt – People who have not seen appropriate boundaries modeled are often susceptible to manipulative messages and feeling guilty when they "let others down". They have been taught (wrongly!) that they must meet the demands of others before they take care of themselves.
A typical guilt message you may have heard is, "I have taken care of you for all these years and you can't do this one little thing for me?" or,"You just don't love me or you would do this!" Sometimes people have repeated guilt messages for so long, that they don't even have to say the words for us to feel guilty!
Desiring Others Approval – Guilt and manipulation create ambivalent feelings in us because we want to please others, but we know deep down that we have needs as well. The insecurities of growing up with dysfunctional parents lead us to think that we need others approval to feel "full" or "whole". We don't like the uncomfortable emotions, so we do whatever we think will keep the other person happy. Unfortunately, we sacrifice ourselves in the process.
Fear of Others' Reactions – Many people get angry when we don't do what they want. As children, this anger is terrifying when it comes from our parents because they hold so much authority in our lives and they are so much bigger physically.
Many of us carry this fear into adulthood although it is completely unfounded. Yes, there are a few people who will actually physically harm someone, but most people just get red in the face and yell a lot. Our adrenaline may flow and it may feel like we are in danger, but the truth is that we can calmly leave the situation, call the police or take other appropriate steps to protect ourselves.
Lacking Confidence – Guilt feelings, desiring others' approval and fear of others' responses are all results of our own insecurities. We are unsure of who we really are and unsure that who we are is okay. We constantly seek the approval of others to make us feel something we don't believe ourselves — that we are fearfully and wonderfully made and that we deserve to be loved and treated well.
To be perfectly clear, I am not advocating being selfish and never helping others. To some of us, however, taking care of ourselves and our families is "selfish". The reality is that it is our responsibility to take care of ourselves and our families first, and to take care of others out of the overflow.
In my next post, I will write about how to set boundaries in a practical way.  You can read more posts in the Healing Journey Series here.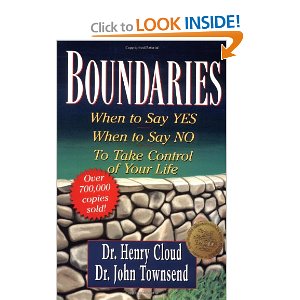 If you would like to read more on this topic, check out the book Boundaries: When to Say Yes, How to Say No to Take Control of Your Life by Dr. Henry Cloud and Dr. John Townsend.
©2010 – 2014 Kimberlee Stokes. Please feel free to share a link to this post with the appropriate credit given, however no material on this website may be reprinted in any form without the express written consent of the author.   Please note that this post is not intended as professional advice but simply the author's personal opinion.  You should seek professional advice if your circumstances require it.
You May Also Like: