*SORRY SOUTHERN SAVERS FOLLOWERS!  CORRECT LINK FOR 7/23 HERE.
Sales weren't that great for me this week, but I was still able to stay well under budget. 
Weekly Total: $61.52 food  $4.28 nonfood ($128.37 value)
($100/wk budget for 6 people including two teens and two preteens!)
July Monthly Total: $154.84 food and $23.61 nonfood ($371.41 value). Join us on Facebook to get instant updates.
Read here why I shop at multiple stores.  See this week's CVS shopping here.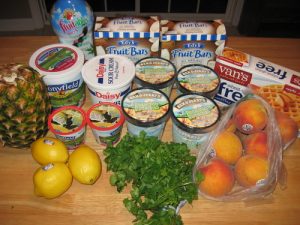 PUBLIX
I paid $26.64 for $52.22 worth of products (49% savings).
Highlights:
$1.40 Ben & Jerry's Ice Cream (raincheck + coupons)
$.99 Edy's Fruit Bars (BOGO + $1/1 tear pad coupon)
$1.00 32 oz. Daisy Sour Cream (Sale + $.50/1 coupon doubled)
KROGER
I paid $34.88 for $45.90 worth of products.  I didn't get any really great deals, but bought things that we needed.

Highlights:
$4.88 32 oz. blueberries
$2.50 pint organic grape tomatoes
You can go here to see what we are eating this week.