The perfect way to stay on track during your day!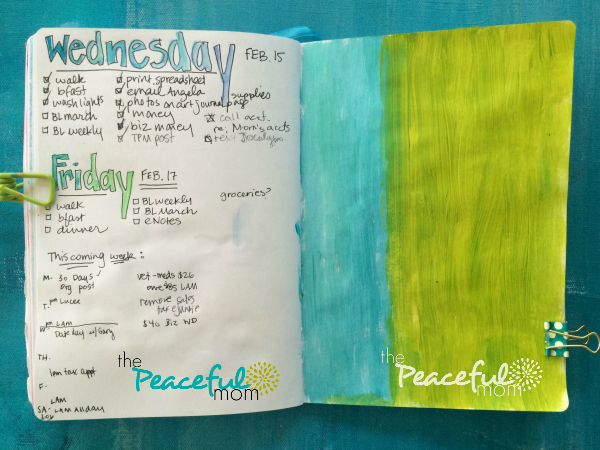 There is always a lot to do. How do you organize your day to make sure that it's all getting done?
If you read my post here, you know that I need help to meet all the demands in my life and one of my "helpers" is my Weekly List. The weekly list helps me to focus on the main projects for each week (Tuesday is errand day, Wednesday is baking day, etc.).
I also have a Daily List which contains my Morning Routine and helps me focus on the tasks for each day:
Exercise/Prayer Time-I like to pray about my day and other issues as I walk in the morning.
Start Laundry-I try to do at least one load of laundry each day so that I don't end up with an overwhelming pile at the end of the week.
Breakfast/Take Vitamins-In order to get everything accomplished I need to keep my energy levels up. I find that eating some form of protein in the morning and taking a couple of supplements helps to get my day started well.
Check Menu/Begin Dinner Preparation– Starting dinner first thing in the morning helps me to have an easier "rush hour" in the afternoon. I usually have everything done and just have to put dinner in the oven when we are ready. For help with menu planning, check out my posts here.
Check Binder/Calendar-I check my Weekly Planner to see what I need to do for the day.
Desk Time-This includes balancing my checkbook, paying any bills that are coming due and my morning blogging time.
School Time-Time to work with the kids on the subjects that we do together.
Having a consistent Morning Routine and a Daily list enables me to get the most important things taken care of daily and brings much peace to my life.
Next Article in the Get Organized Series:
Click here to read more articles in this series.
Click here for FREE Printable Planners to help you get organized.
©2010-2013 The Peaceful Mom-Feel free to share this post in its entirety with a link to ThePeacefulMom.com and credit given to Kimberlee Stokes.
You May Also Enjoy: