Thirsty anyone?  We've got plenty of SoBe Life Water!
Best CVS Deals 7/4-7/10 here.   Best Deals 7/11-7/17 here.

Go here if you are new to shopping at CVS.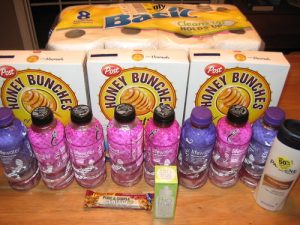 I paid $.83  for $62.93 (99% savings!!!!) worth of products and left with $9.99 ECBs.

Transaction 1
(1) Power Bar Pure and Simple $.99
Coupons:
$.99 ECBs (from last week)
Total spent: $0.00 and I received $1.00 ECB.
Transaction 2
(3) Post Cereals $3.34 ea.(reg. price $4.79)
(1) Bounty Paper Towels 8 roll pack $5.97 (reg. price $7.99)
(1) Bausch and Lomb BioTrue Multipurpose Solution $2.99
(8) Sobe Life Waters BOGO $1.69
(1) Pantene Shampoo $2.49 (reg. price $4.99)
Total before coupons: $29.12
Coupons:
$5/$25 order CVS email coupon
$1/1 Pantene  (sticky on bottle)
$2/1 Pantene CVS coupon kiosk coupon
$2/1 Bounty CVS coupon kiosk coupon
$.25/1 Bounty manufacturer coupon
(4) Sobe B1G1 printables (play game)
(1) $2/1 Post printable (my store did not have Grape Nuts so they allowed me to use the coupon on the Honey Bunches of Oats)
$10.00 ECBs from last week
Total spent: $.62 and I received $8.99 in ECBs ($1 Bounty, $5 Post, $2.99 B&L Multipurpose Solution)
This transaction could have been even better, but I could only print one Post coupon.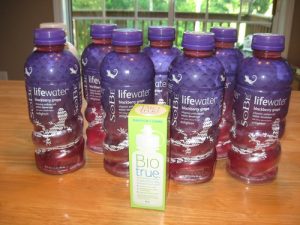 CVS Trip #2
I found out that the Bausch and Lomb Multipurpose Solution limit was (2) instead of (1) and we were able to print more Sobe coupons, so we made a second trip (5 minutes away!).
(8) Sobe Life Water BOGO $1.69
(1) Bausch and Lomb Multipurpose Solution $2.99
Total before coupons: $10.17 ($17.13 value at regular price)
Coupons:
(4) B1G1 Sobe printables ($1.69 each)
$2.99 ECBs from Transaction 2
Total spent: $.21 and I received $2.99 ECBs (B&L Solution)