I fed my family of six for less than $400 this month!
Weekly Total: $112.69 food  $22.34 nonfood ($334.66 value)
($100/wk budget for 6 people including two teens and two preteens!)
June Monthly Total: $394.43 food and $62.22 nonfood ($1145.83 value). Join us on Facebook to get instant updates.
Read here why I shop at multiple stores.  See this week's CVS shopping here.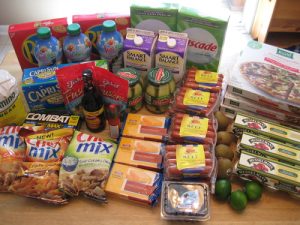 PUBLIX
I paid $61.05 for $168.82 worth of products.
Highlights:
FREE plus $.70 overage Smart Balance milk
FREE plus overage Combat Ant Bait
$.25 Chex Mix
$.42 Musselman's Applesauce 6 pack
$.49 large bottle of Worcestershire Sauce
$.50 Fisher Trail Mix
$.50 Apple & Eve 100% Juice
$1.49 Domino Sugar 4lb bag (reg. $3.49)
$3.00 Kashi Pizza (reg. $5.99)
not pictured:
(4) pkg Kotex Pads $1.39 each (reg. $3.15)
(1) Raid Ant Spray $.89 (reg. $3.89)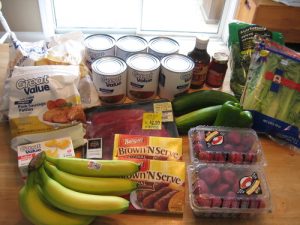 WALMART
I paid $35.39 for $47.80 worth of products.
Highlights:
(2) pints strawberries for $1.38 each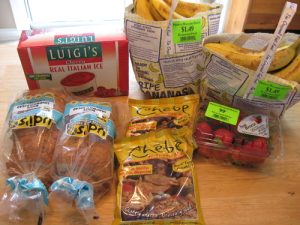 INGLES
I paid $18.54 for $29.84 worth of products.
Highlights:
$3.98 Gluten Free Bread (reg. $4.28)
$.69 Luigi Italian Ice
$.99 strawberries
12 lbs of bananas for $2.98 -$.25/lb (going in the freezer for smoothies and snacks)
KROGER (sorry, no photo!)

I paid $6.25 for $6.25 worth of products.  I had to make a quick trip after church to pick up necessities before my regular shopping day.  Unfortunately I had to pay full price.

(2) dozen eggs $1.19 each
(2) bell peppers $.75 each
(1) lb Kroger butter $2.19
Want to know how you can save more on your groceries?  Go here to read my strategy.  Go here to see what we're eating this week.