Need a boost to your grocery budget and menu planning? Super Chicken to the rescue: 2 chickens, 3 meals.
Day 1 Rosemary Roasted Whole Chicken
INGREDIENTS

(2) Whole Chickens (around 3 lbs. each)
1/4 stick butter
2-3 tablespoons Kosher salt
1-2 tablespoons dried rosemary
DIRECTIONS
Rinse and dry chickens. Remove organs and place in refrigerator for later use. Place chickens breast side up in a large roasting pan. Soften butter and add salt. Spread butter and salt mixture generously over the skin of both birds. Rub rosemary between your palms to crush it and release the flavor. Sprinkle on the skin of the chickens.
Bake at 350 degrees for 3 hours or until skin is golden brown and crispy and a meat thermometer inserted into the meat reads 160 degrees.
Serve immediately with mashed potatoes and green beans.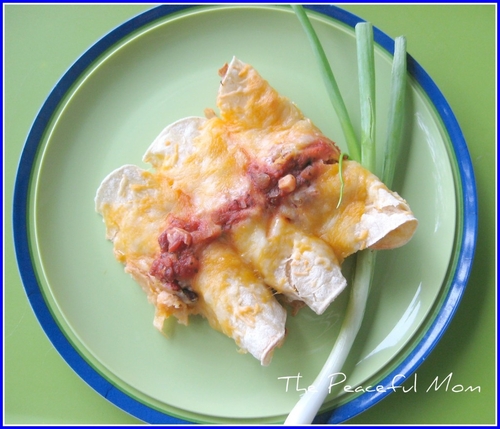 Day 2 Awesome Chicken Stock plus Chicken Enchiladas

Awesome Chicken Stock
INGREDIENTS

Leftover chicken bones with meat as well as organs set aside previously
1 gallon pure filtered or spring water
2 tablespoons sea salt
1 tablespoon white vinegar
2 stalks celery (including leaves), cut into large chunks
1 large onion, quartered
DIRECTIONS
Remove meat from chicken bones. Set meat aside. Place bones, reserved organs and all other ingredients in a large stock pot. Bring to a boil then lower to a simmer. Allow to cook on low for 12 hours, skimming fat from the top regularly.
Cool and strain. Reserve 4 cups of chicken stock for Day 3 and freeze remainder in ice cube trays for later use. (For more than four servings reserve more stock. See recipe below.)
While broth is cooking, use deboned meat to make chicken enchiladas (recipe here) or chicken salad (recipe here).
Day 3 Easy Chicken Soup
INGREDIENTS
4 cups chicken stock
3/4 cup diced onion
3/4 cup diced celery
1 tablespoon minced garlic
1 cup shredded chicken
1 teaspoon dried parsley
1 teaspoon thyme (if desired)
salt and pepper to taste
1 cup cooked egg noodles (use GF pasta if eating gluten free)
DIRECTIONS
Bring stock to a boil in a large, stainless steel stock pot. Boil for two minutes. Add onion, celery, carrots, garlic and chicken as well as spices. Bring to a second boil, then lower heat and simmer for 30 minutes. Add noodles and cook 5 more minutes. Remove from heat and serve immediately. Serves 4.
Serve with cheesy biscuits or crusty french bread (or GF rolls if eating gluten free)
All recipes are given with the understanding that this author is neither a nutritionist, nor has any medical training. The author is simply sharing recipes that she has used and takes no responsibility for results that may occur in your situation. You should seek the advice of a certified nutritionist and/or your medical professional.