I'm a little bit over the budget this week ($100/week for six including two teenagers), but I am still under budget for the month and we've got lots of food!
Weekly Total: $102.27 food  $21.19 nonfood ($208.47  value)
June Monthly Total: $189.54 food and $38.77 nonfood ($549.13 value). See this week's CVS shopping here.
Join us on Facebook to get instant updates.  Read here how to save big on your groceries. Go here to see what we're eating this week.
PUBLIX
I paid $24.70 for $48.39 worth of groceries. (Price paid after sales and coupons in parenthesis.)

12 double roll Angel Soft Toilet Paper $6.99 ($4.49-not pictured)

(10) ears yellow corn $.45 each-$4.50 total ($2.50 total)
(1) Athena Cantaloupe $2.50 ($1.99)
(2) pints grape tomatoes $2.99 ($1.25 each)
(1) 4 oz Lawry's Seasoned Salt $1.79 ($.24)
(1) 12 oz bag Publix Baby Spinach $2.29 ($2.00)
(1) pint blueberries $3.99 ($1.50)
(1) 32 oz Stonyfield Organic Yogurt $3.59 ($1.59)
(2) Nestle Ready to Bake Cookies $2.89 ($1.44 each)
(1) 1/2 gallon Organic Valley Milk $3.99 ($1.49)
(1) pint Organic Valley whipping cream $3.29 ($2.29)
(1) 6  oz Muir Glen Organic Tomato Paste $1.09 ($.09)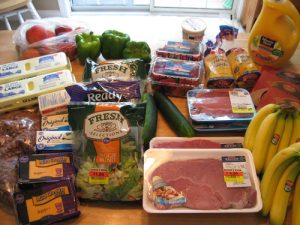 KROGER
I paid $89.64  for $139.00 worth of groceries.  (Price paid after sales and coupons in parenthesis.)

(2) dozen Kroger large eggs $1.19 ($1.00 each)
5.29 lbs bananas $.69/lb $3.65 total ($.39/lb $2.06 total)
(1) gallon Minute Maid Organic Orange Juice $5.99 ($4.49)
(2) 8 oz  Kroger Cream Cheese bars $1.09 ($.84 each)
(2) 6 count Gluten Free Bagels $5.49 ($4.69 each)
(2) 32 oz Kroger Cheese blocks $4.89 ($2.99 each)
(3) 8 oz pkg Hormel Naturals Lunch Meat $3.59 ($1.95 each)
(2) cucumbers $.89 each ($.50 each)
(1) 16 oz Daisy Sour Cream $3.09 ($1.79)
(1) 16 oz Kroger Value Butter $1.98
2.66 lbs Round Steak $13.27 ($10.60)
(2) Wild Caught Salmon Fillets $9.22 ($5.26)
(2) 16 oz Dole Strawberries $2.99 ($1.85 each)
(4) 12 oz bags Fresh Selections Salad $3.29 ($1.37 each)
4.21 lbs fresh peaches $6.70 ($4.21)
(3) green bell peppers $.99 ($.79 each)
(1) Almond Joy Candy bar $1.00 ($.50)
(2) Life Savers Hard Candies Peg Bags $1.99 ($.50 each)
(1) Ocean Spray Craisins $1.00
(2) 16 oz bags fresh almonds $5.99 ($3.99 each)
NOT pictured:
(2) Tom's Natural Deodorant $5.99 ($3.79 each)
(1) Cascadian Farms Cereal $4.99 ($2.49)