This is the kind of week I enjoy when I have no ECBs-spend money out of pocket and get back double your money in ECBs!
Go here to see the CVS deals starting 6/20!  Go here to see my shopping plan.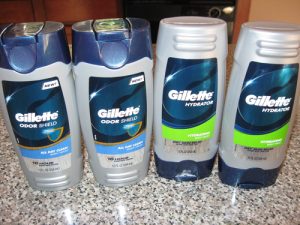 I spent $9.12 for $21.08 worth of products and received $17 in ECBs.
Transaction 1 (starting with no ECBs)

(2) Gillette Men's Body Wash 12 oz $4.00 ($4.99 reg. price)
Total before coupons: $8.56
Coupons:
B1G1 Gillette Body Wash 6/6 PG
Total spent: $4.56 and I received $9 ECBs ($1 Green Bag Tag, $8 Gillette)
Transaction 2 (husband's card)
(2) Gillette Men's Body Wash 12 oz $4.00 ($4.99 reg. price)
Total before coupons: $8.56
Coupons:
B1G1 Gillette Body Wash 6/6 PG
Total spent: $4.56 and I received $8 ECBs (Gillette)