Parmesan Chicken Strips, Loaded Baked Potatoes and more this week.
Note: My Kroger Deals post (here) includes only the super sale items.  The meal ideas include some regular sale items which can be found here (enter your zip code).  You may have ingredients on hand that will make these meals cheaper.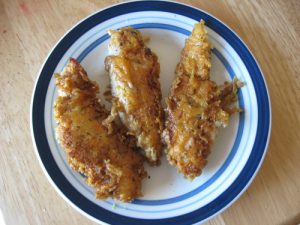 Parmesan Chicken Strips (Tyson Bnls Snls Chic Tenders $1.99/lb) Recipe here.
Serve with sugar snap peas sauteed in butter.
Hamburger Casserole (Ground beef Flavorseal 5lb pkg $1.60/lb, Ronzoni Healthy Harvest or Smart Start Pasta $1.00) Recipe here.
Serve with broccoli and garlic toast.
Loaded Baked Potatoes ( Kroger Russet Potatoes 5 lb $1.69) Recipe ideas here (scroll to the bottom under "Baked").
Serve with salad (Fresh Selections Salad $1.50).
Rotisserie Chicken ($3.99)
Serve with corn on the cob (yellow or white $.28/ear) and coleslaw (Fresh Selections Cole Slaw $1.50)
Honey-Soy Broiled Salmon (Wild Caught Silverbrite Salmon Fillets $3.99/lb) Recipe here.
Serve with rice and your favorite green vegetable.