Simple Gluten Free: A little less simple than some of my other recipes, but so worth it!  The nutritional benefits are phenomenal.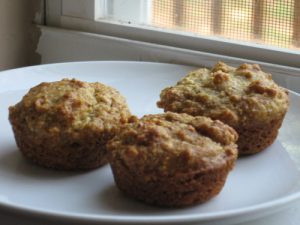 INGREDIENTS
2 and 1/2 cups ground almonds* (See below for instructions)
3 eggs
1/4 cup honey or raw agave nectar
1/4 cup cream or melted butter (DO NOT SUBSTITUTE WITH MARGARINE!)
1/2 teaspoon baking soda
vanilla, almond extract and cinnamon to taste

DIRECTIONS
Preheat oven to 350 degrees.

In a large mixing bowl, mix almond flour and baking soda. In a separate bowl, add wet ingredients and whisk together to blend eggs well.  Add wet ingredients to almond flour mix and stir until well mixed.
Spoon batter into a well oiled muffin tin. Cook 15-20 minutes (adjust for mini muffins). Muffins will puff up and brown. Test with a toothpick for doneness.
Makes 12 regular or 24 mini muffins.
*For maximum nutritional value, almonds should be purchased raw and soaked to break down the fibers. If you are unable or unwilling to do the soaking and drying, skip to the grinding instructions below. I keep a supply of soaked and dried almonds in the freezer to pull out and use for this recipe.
To soak: Place 1 lb of raw almonds in a large glass bowl and cover with filtered water. Add 1-2 teaspoons of sea salt and stir to dissolve. Allow almonds to soak overnight and rinse in the morning.
To dry: Place almonds in a dehydrator set to 110 degrees. Allow to dry for 2-3 days or until crispy. Alternately, you can dry them on a cookie sheet 2-3 hours in an oven set on its lowest setting. Check regularly.
To grind: Place soaked and dried almonds in a food processor or coffee bean grinder and grind into a coarse powder.
All recipes are given with the understanding that this author is neither a nutritionist, nor has any medical training. The author is simply sharing recipes that she has used and takes no responsibility for results that may occur in your situation. You should seek the advice of a certified nutritionist and/or your medical professional.