Yeah for paper products!  I stocked up on toilet paper and tissues and saved 85%!
To see the CVS Best Deals starting June 6th go here.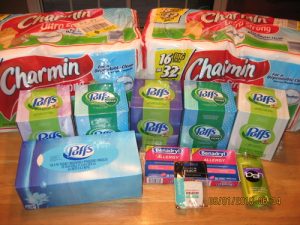 I spent $8.75 for $55.82 worth of products and left with $10.00 in ECBs.
My first transaction worked better than I had planned originally because I found (5) Puffs coupons and I had a little bit of money on a gift card.
Transaction 1
(2) Charmin 16 roll pack toilet tissue $9.99 (reg. price $12.99)
(5) Puffs Plus Tissues 60 ct.  $.99 each (reg. price $1.99)
(1) Puffs Basic Tissues 108 ct. $.99 (reg. price $1.99)
Total before coupons: $27.45
Coupons:
$4/$20 order CVS email coupon
(5) $.50/1 Puffs Plus Tissues
(2) $.25 off Charmin
$10.99 ECBs
$1.62 Gift Card
Total spent: $7.84 and I received $10 ECBs.
My second transaction also worked better than planned because there were $2/1 peelies on the Benadryl.

Transaction 2 (husband's card)
(1) Ban Deodorant $2.99 (reg. price $3.49)
(1) Benadryl Allergy Tablets 24 ct. $4.99
(1) J&J Reach Dental Floss $.99- BOGO (reg. price $1.99)
(There was only one floss left so the mgr. allowed me to get it at half price.)
Total before coupons: $9.53
Coupons:
(1) $1/1 Ban Deodorant
(1) $2/1 Benadryl (peelie on box)
(1) $1/1 J&J Reach Floss
$4.00 ECBs (from last week)
$1.00 ECBs (from last week-adjusted to $.98)
Total Paid: $.56 tax and I received $3.00 ECBs ($1 Benadryl, $2 Ban)
Transaction 3 (husband's card)
(1) Benadryl Allergy Tablets $4.99
Total before coupons: $5.34
Coupons:
$2.00 off Benadryl
$2.99 ECBs (from Transaction 2-$1.00 adjusted to $.99)
Total spent: $.35