I paid $144.56 for $391.69 worth of groceries. I am over budget for the month, but the pantry and freezer are full!
Weekly Total: $128.89 food  $15.67 nonfood ($391.69 value)
($100/week budget for 6 including 2 teenagers.)
May Monthly Total: $461.25 food and $92.37 nonfood ($1308.33 value). I am over $61.25 for the month, but I wanted to take advantage of the great deals I found on meat this week.   Let's see if I can make it for the next 10 days without another grocery trip!
Want to save big on your grocery bill?   Read about my strategy here.  Go here to see the best grocery deals this week.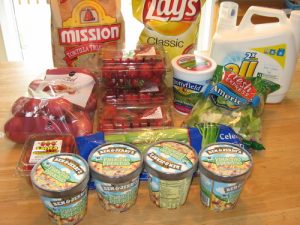 PUBLIX TRIP #1
I paid $17.90 for $69.97 worth of products.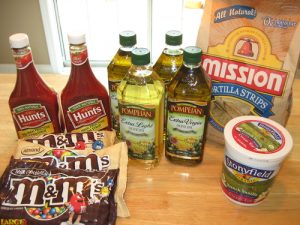 PUBLIX TRIP #2
I paid $35.35 for $75.06 worth of products.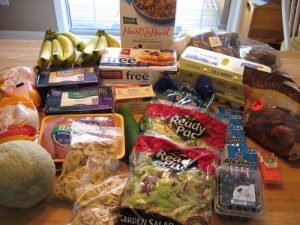 KROGER
I paid $68.54 for $106.46 worth of products. (Price paid after sales and coupons in parenthesis.)

(2) Tyson Whole Chickens 10.2 lbs $11.12 ($4.45 each)
(2) 5 count pkgs Italian Sausage $4.59 ($2.99 each)
(1) Deli Rotisserie Chicken $4.99 ($3.99)
(1) Van's Gluten Free Frozen Toast Sticks $3.99 ($3.49)
(1) Van's Gluten Free Frozen Waffles $3.99 ($3.49)
(1) 16 oz Kroger Butter $1.98
(4) 24 oz Kroger Cheese Bar $5.99 ($3.63 each)
(2) dozen Kroger Eggs $1.39 ($1.00 each)
(2) 16 oz RediPac Garden Salad $1.99 ($1.50 each)
(1) 12 oz Kroger Fresh Spinach $2.39 ($1.79)
(1) Fresh Cucumber $.89 ($.50)
(1) Fresh Cantaloupe $2.00 ($1.29)
(1) pint Fresh Blueberries $3.99 ($2.99)
5.52 lbs Bananas $3.26 ($2.15)
10lb bag Russet potatoes $4.99 ($1.59)
(1) Kashi Cereal $4.49 ($1.49)
(2) 7 oz bags Dried Banana Chips $3.29 ($1.00)
(4) 4 pack Kroger Batteries $1.99 ($1.00 each)
(2) Tic Tac Mints $1.09 ($.50 each)
INGLES
I paid $15.56 for $37.72 worth of products. (Price paid after sales and coupons in parenthesis.)

(2) Dukes Mayonnaise $3.28 ($.88 each)
(1) 16 oz Mahatma Rice $1.09 (FREE plus I made $.24)
(1) 9 volt RayOVac battery $3.25 ($.25)
(8) 8 oz Hormel Naturals Lunch Meat $2.98 ($1.44 each)
Not pictured:
Capri Sun $2.98 ($1.00)