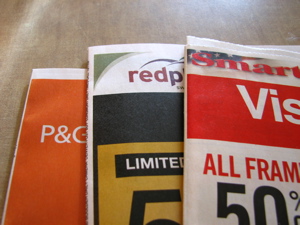 One common frustration I hear from readers is that their coupon insert is missing a coupon that I've listed.
Why is that?
Why is a coupon missing from my insert?
Coupons are part of the advertising/marketing budget for brands, and they want to target that spending to make the most of their advertising budget.
Generally advertising in larger cities reaps more reward because they reach more people, so as a result. bigger cities like Atlanta, Jacksonville and Charlotte receive more coupons in their inserts. The smaller the city you live in, the fewer coupons you are likely to see in your newspaper.
How can I get those coupons?
If a coupon is in a weekly insert, but not in your paper, you may be able to order them or trade for them. The following sites (as of the publishing date of this post) offer coupons.
NOTE: Only order coupons for items you know you will purchase or you are wasting money.
And NEVER order printable coupons online because they could be copy, and thereby illegal to use. .
You can also trade coupons you have for coupons that you want. Southern Savers has a coupon traders board with many members. You can join the group and ask there for coupons you want to trade for.
A tip for organizing your coupons:
I keep my inserts whole with the dates written on the front cover of the insert. Before I flip through to see if a coupon is there, I check the Coupon Insert Variation List published at Southern Savers each week. You can also print these off and add it to your insert for that week.
That way if you see "$4 off Nivea Body Wash SS 5/02″, you can check the variations list for your coupon insert from 5/2 before you look through all the pages to find the coupon.