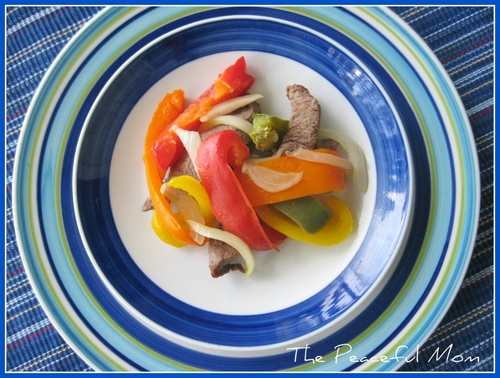 Steak and Peppers Recipe (gluten free)
I love recipes that are simple to prepare, but taste great. This easy Steak and Peppers recipe totally fits the bill.
To keep this recipe budget friendly I buy flank steak or sirloin when it is on sale or markdown and keep it in the freezer.
Steak and Peppers Recipe (gluten free)

A quick and easy recipe from ThePeacefulMom.com.

Ingredients
1 lb flank steak
2 bell peppers (we use yellow and green)
1 large onion
1/4 cup olive oil
Marinade:
1/2 cup balsamic vinaigrette dressing
1/4 cup Worcestershire sauce (check ingredients if making this gluten free)
1/4 cup Soy Sauce (omit if making this gluten free and increase Worcestershire to 1/3 cup)
salt and pepper to taste
Instructions
Slice steak into strips.
Prepare marinade by combining ingredients in a glass jar and shaking well.
Place steak strips in a glass container and cover with marinade.
Refrigerate for 4-6 hours, stirring occasionally to coat well.
Slice peppers and onions into strips.
In a large skillet on medium high heat, heat olive oil and add pepper strips.
Saute for 3-4 minutes until peppers begin to soften.
Add onion and continue to stir fry until just before onion becomes translucent.
Increase heat slightly and add steak strips (discard marinade).
Saute until brown on all sides (longer if you like your steak well done).
Remove pan from heat and cover if not serving immediately.
Serve over rice if desired.
https://thepeacefulmom.com/2010/05/12/whats-cookin-wednesday-steak-and-peppers/