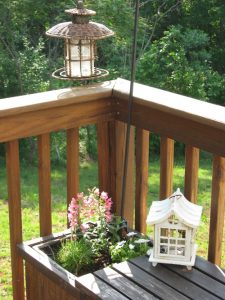 Many times when we are in a financial crisis or on a strict budget, our first response is to limit "non-essential" expenditures. What we determine as "non-essential" however, can make the difference between surviving and living.
We have lived for many years on an income that many people would scoff at.  During this process I have learned something:
We need beauty.
Beauty heals.  Beauty restores.  Beauty brings life.
Looking at the beautiful plants on my porch each morning gives me a feeling of rest and peace.  I love the color and variety of God's creation.  I love the feel of the dirt in my hands and the wonder of keeping small things alive over time.  I love watching plants grow and change.
So even though we may have to eat cheaper meals for a week or go without an extra pair of shorts, I spend a reasonable amount of money on providing beauty for my family and myself.
The small investment on this "non-essential" is well worth the  therapeutic effect on my life.