Simple Gluten Free: Simple recipe for blueberry muffins. Follow the recipe exactly or you will have crumbly muffins.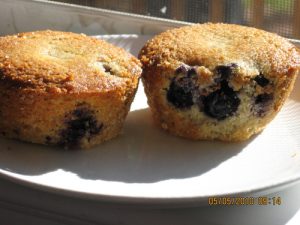 In our quest to find gluten free items because of my daughter's wheat sensitivity, we have had to do a lot of experimentation.  One of the things that we have finally worked out is our muffin recipe.
Ingredients:
1 and 3/4 cup brown rice flour*
1/2 teaspoon salt (we use sea salt)
1/2 cup sucanat (dried honey crystals-you can substitute brown sugar)
4 teaspoons baking powder
1/2 cup milk (you can substitute coconut milk)
2 eggs beaten
1 teaspoon vanilla
1/2 cup olive oil
1 cup blueberries (we use frozen)
Directions:
Combine dry ingredients and mix well.  Combine liquid ingredients, mix and add to dry ingredients.  Mix until everything is incorporated.  (Do not over mix.)  Fold in blueberries.
Pour into muffin tins (sprayed with oil) and bake at 350 degrees for 20 minutes.  Make sure to cook them thoroughly or they will fall apart.  Allow to cool for about 5-10 minutes before removing from the muffin tin.
We make these in batches and freeze them in zipper bags so that when other family members are having something with wheat my daughter can pull out a gluten free muffin.  They are somewhat crumbly so I think adding a little tapioca starch would help.
*Not So Simple Disclaimer: Brown Rice Flour is available in stores, but is very expensive.  We grind our own using our Whisper Mill Electric Grain Mill.  To remove any residue from grinding wheat, I grind about 1 cup of dried popcorn kernels.  We then grind organic brown rice and store it in the freezer in gallon zipper freezer bags.  We always label the bags because it looks very similar to regular flour.
All recipes are given with the understanding that this author is neither a nutritionist, nor has any medical training.  The author is simply sharing recipes that she has used and takes no responsibility for results that may occur in your situation.  You should seek the advice of a certified nutritionist and or your medical professional.