As you can read here, I have used most of my grocery money for the month.  I just noticed this morning that we need eggs and butter.  Guess what happened?
I got these in the mail this afternoon: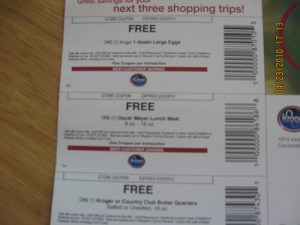 Coupons for (1) FREE dozen eggs, (1) FREE pound of butter and (1) FREE Oscar Mayer lunch meat. God did it again-provided just what we need just when we need it!
You May Also Enjoy:
The Week in Photos: FREE Food!