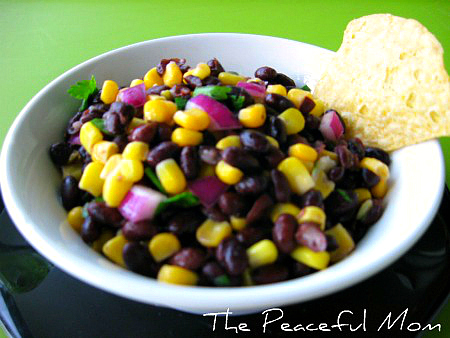 We love the fresh taste of this black bean and corn salsa and eat it all spring and summer!
INGREDIENTS:
4 cups cooked black beans (I pre-cook mine and keep them in the freezer!)
(1) 16 oz. bag frozen corn kernels
1/2 cup red or yellow onion chopped (use more if you like)
handful of fresh cilantro chopped
juice of 3 fresh lemons
Salt to taste (I use about 1 tablespoon)
DIRECTIONS:
Combine all ingredients.  Stir and refrigerate 4 hours before serving.  Fresh and delicious!
©2011 The Peaceful Mom-You are welcome to share this recipe as long as you give credit and a link back to The Peaceful Mom.  Thanks!