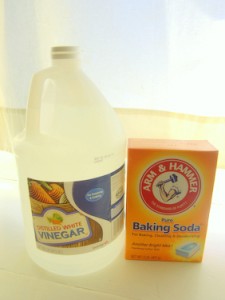 Thanks to Lynnae McCoy at BeingFrugal.net for these homemade cleaner recipes:
To clean windows– mix 2 cups of water, 1/4 cup of white distilled vinegar, and up to 1/2 teaspoon of Dawn in a spray bottle.
To clean floors– add 1 cup vinegar to 1 gallon hot water and mop away!
To clean bathrooms-fill a spray bottle with 1/2 cup Dawn and as much vinegar as the bottle holds.
To clean toilets-mix 1/4 cup baking soda, 1/4 cup Dawn, and 1/4 cup water.  Let sit on the toilet bowl for a couple of hours, swish with a toilet brush, and flush.
To scour sinks-plain baking soda works just like scouring powder.
To deodorize carpet-just sprinkle on the carpet, let sit for a while, and vacuum up!