WARNING: This post contains photos of raw meat.  Read at your own risk!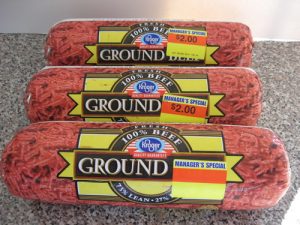 I was able to buy 15 lbs of ground beef yesterday for $.40/lb!  (You can see all my bargains here.)  This was exciting news until I realized that I had to do something with all that ground beef IMMEDIATELY.
I love saving money and time by cooking ahead and having meals in my freezer. (You can read more about freezer cooking here.)  I don't, however, always enjoy the work of preparing those meals.
As I was contemplating my lack of desire to bother with ground beef today (and how I would rather be doing something else!), I remembered a principle I heard long ago: "Do the Worst First."
This motto means that whatever task you need to do, but don't want to do, should be done first rather than last.  Waiting to do the unpleasant work only drains you emotionally and mentally.  Getting the work out of the way frees you to do more pleasant activities without the guilt or worry nagging you.
So that being said, I made the hamburger patties first: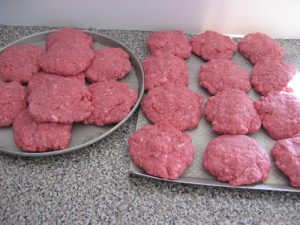 Now off to brown the rest of the ground beef with onions and then some FUN!