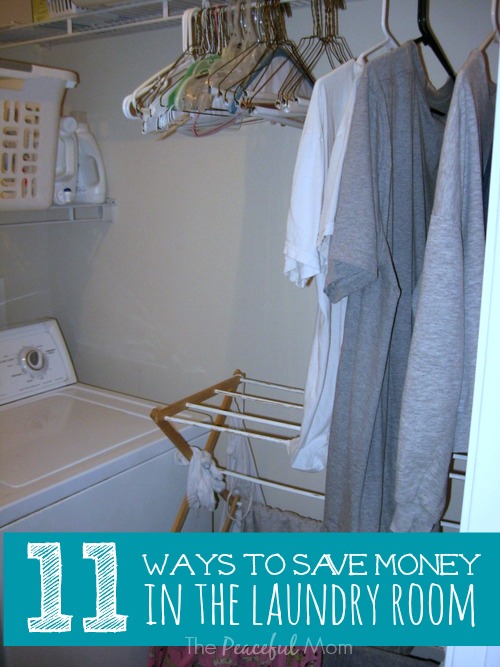 Yes, I just posted a photo of my laundry. I wanted you to see that I practice what I preach: I hang at least one load of laundry per day on my drying rack. Doing this simple task saves us at least $50 a month on our electric bill!
If I am washing more than one load, I hang the load with the heaviest items such as jeans. Here are some other money saving laundry ideas:
Save on Washing
Clear Out Clutter– We go through our clothing every 6 months or so and clean out anything we haven't worn or that doesn't fit. We donate the clothing, but you could consign or sell items on Ebay if they are especially nice. Knowing exactly what clothing we have prevents us from buying items we don't need, and keeping less clothing means less that I have to wash.
Wash Smart-Wash full loads, but not over full. It takes the same amount of electricity to wash a small load as a large load. If you have to wash a smaller load, make sure to adjust the water level to the size of your load to save water.
Use a Shorter Cycle- Choose a shorter wash cycle to use less electricity.
Keep It Cold- Washing your clothes in cold water saves money on your power bill and also helps your clothing fade less, and therefore last longer. Warm water is of no advantage because it is not hot enough to kill any germs and uses more electricity than cold water. I reserve hot water for my towels and washcloths in order to kill bacteria.
Save on Detergent
Use Less- When using store purchased laundry detergent, I usually use only about 1/4 of the recommended amount of detergent and have no problem getting my clothes clean. I experimented by filling the machine, adding small amounts of detergent and testing to see if the water felt soapy.  If you don't want to go to the trouble to do this, try a load with half of what you normally use and see if you notice a difference in your clothing.
Stock Up– I know that my preferred detergent (All Allergy Free 50 oz bottles) goes on sale every 2-3 months for $3.49 and there is usually a corresponding coupon for $1.00 off. When the sales hit, I stock up so that I have enough detergent to last until the next sale.
Make Your Own- I finally ventured into the world of DIY Laundry Detergent. For around $14 I can make enough to last several months because you only have to use 1 to 2 tablespoons per load!
Save on Drying
Dry Smart– Dry full loads, but don't over stuff your dryer. The clothes are dried by air circulation and if you have too many clothes, the air can't circulate as well, therefore the load takes much longer to dry and you use more electricity.
Throw in the Towel– Placing a thick, dry bath towel in the dryer with each load helps to absorb moisture, thereby drying your clothes faster (and using less electricity).
Invest In a Better Machine- Older dryers are not as energy efficient as newer models. If you consistently have to run your machine more than an hour to get a load dry, it's time to look for a new dryer. Scratch and Dent appliance stores usually have pretty good deals on new dryers.
Wash Less Frequently– Here is your controversial tip of the day: Wear clothing more than once. I have to admit I wear jeans more than one day if I am at home or running errands. I know people who hang clothing they have only worn once, turn the hanger backward in the closet so they know the item has been worn, and then wear them again before washing. I have to say, to avoid embarrassment, have a family member do a sniff test for you!
Do you have any other money saving laundry tips? Leave a comment.