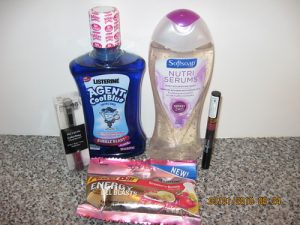 CVS
Paid $3.84 for $30.46 worth of products and received $6.50 ECB's.
Transaction 1
15 oz Soft Soap Body Wash $4.99 (get $4 ECBs)
500 ml Listerine Mouth Wash $3.99 (get $1 ECB)
Power Bar Enery Gel Blast $1.50 (get $1.50 ECBs)
Revlon Creme Lip gloss $9.99
Revlon Colorburst Lip gloss $9.99 (FREE because of BOGO sale)
Coupons:
$4/20 CVS email coupon
(2) $2/1 off Revlon Cosmetics 2/21 SS
$.75 Soft Soap printable
$1.00 Listerine Cool Blue printable (IE) or printable (FF)
Total Spent: $3.84 out of pocket and received $6.50 in ECB's.
(I actually had to return both lipglosses because the texture was very unpleasant, so I have no out of pocket cost for this week.)
For a complete list of Walgreens and CVS deals see Tias Saving Cents.