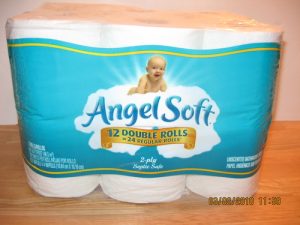 Crystal at Money Saving Mom recently asked the question,"What is Your Stock Up Price for Toilet Paper?".  I was quite confident that my Angel Soft 12 Double Roll for $4.49 (when combining the regular Publix sale with a $1.00 coupon) was the best deal.
My friend Tiffany, however, was of a different opinion. She claims that Scott 1000 is the best toilet paper value.
So when Rite Aid had the Scott 1000 12 pack on sale for $6.99 last week, I grabbed my $.75 coupons and bought 2 packages for $6.24 each.
When I went to check out the cashier even said,"Wow, that's a great price!"
So let's compare:
Angel Soft:
2 ply
501 square feet
352 sheets per roll
4224 sheets per package
cost per square foot: $.00896
cost per roll: $.37
cost per sheet: $.00106
Scott:
1 ply
1382 square feet
1000 sheets per roll
12,000 sheets per package
cost per square foot: $.00451
cost per roll: $.52
cost per sheet: $.00052
At these sale prices, the cost per roll is higher for the Scott, but the rolls are much bigger.  The cost per sheet of the Angel Soft is actually a little over TWICE as much as the Scott, so even if we use twice as much paper because Scott is one ply, we still save money. 
The clear winner is Scott 1000 when priced around $6.00. If I cannot find Scott on sale, I will buy the 12 Double Roll package of Angel Soft because it is a better deal at the regular price (around $5.50).
I know that for some of you this entire discussion was irrelevant because you can ONLY use the premium tp.  If that is a luxury you can afford, go for it.  I personally don't want to spend any more money than I have to on something that's going straight down the toilet!
I have also heard that you don't have to change the roll as often, which is great in the event that no one else in your family knows how to do that!