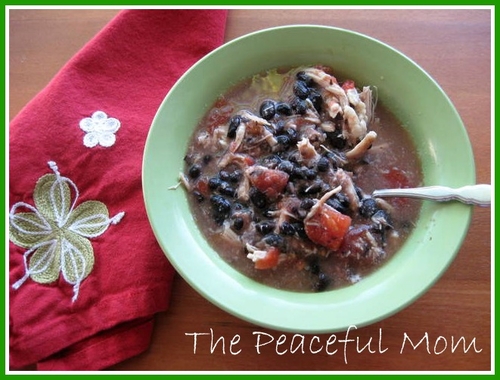 SPICY CHICKEN AND BLACK BEAN SOUP
Spicy Chicken and Black Bean Soup (GF)
An easy crock pot recipe from The Peaceful Mom!
Ingredients
2 cups cooked shredded chicken
2 cans black beans, drained and rinsed (I use 3 cups precooked dried beans from my freezer)
4 cups chicken broth
1 pkg frozen corn kernels
1 jar salsa
(I use (1) 24 oz. can diced tomatoes + 2 cubes green sauce*)
1 1/2 tsp.cumin
Garnish: sour cream, avocado, fresh cilantro, shredded cheese
Instructions
Place all ingredients in the crock pot and cook on low for 6-8 hours.
Before serving, use an immersion blender or remove one cup of the soup to a regular blender and blend (to thicken soup).
Return blended soup to pot and stir.
https://thepeacefulmom.com/2010/02/17/whats-cookin-wednesday-spicy-chicken-and-black-bean-soup/
*BRENDA'S SPECIAL GREEN SAUCE
2 medium green bell peppers, chopped
1 large onion, chopped
1 small bunch cilantro, coarsely chopped
2 cloves garlic
1 jalapeno (or more if you like heat)
Blend until pureed.  Freeze in ice cube trays.  Use in bean dishes, soups, chili.
I am linking up to Gluten Free Wednesdays!