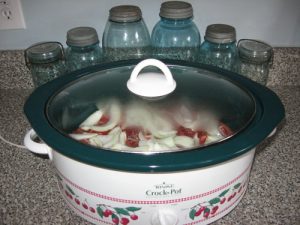 Today I'm cooking this delicious beef stew-perfect for a cold day.
BRENDA'S BEEF STEW

2 lbs. beef stew meat or roast, cut into chunks
1 tsp basil
1 tsp thyme
1 tsp. garlic salt
1 tsp. sea salt (or iodized)
cracked black pepper to taste
1 cup red wine (I buy the cheapest I can find)
1 cup water
1- 4 oz. can tomato paste
1 medium onion, cut into rings
2 stalks celery
5 diced carrots
5-6 diced, peeled potatoes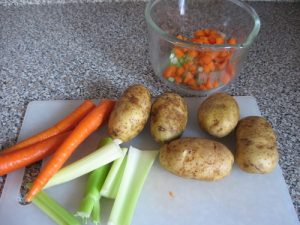 Place stew meat in the crock pot and sprinkle with spices.  Combine wine, water and tomato paste and pour over meat.  Stir to coat.  Place onion rings on top.   Cook 5-6 hours on low.   3 hours before serving, add celery, potatoes and carrots.  Turn on high for remaining time.  Serves 6.