WATCH MY EASY FREEZER COOKING VIDEO!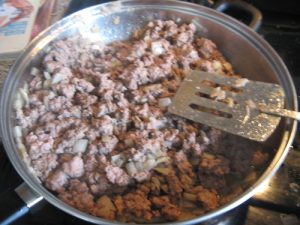 Remember the 15 pounds of ground beef I recently found for $.63 a pound? One of my favorite time and money saving tips is to buy ground beef on sale and prepare it for the freezer.
With this batch I browned two thirds of it with chopped onions. I then drained it, cooled it and placed it in gallon zipper freezer bags. I removed the air and flattened the packages so they look like this: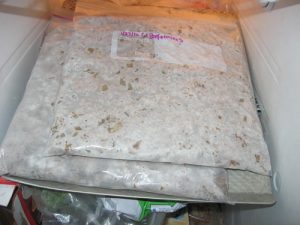 I then placed the bags flat on a cookie sheet, so that when they are frozen I can stand them up in the freezer, which saves space and enables me to fit more food into the freezer. (You can watch my Easy Freezer Cooking Video here to see exactly how I do this.)
The ground beef and onions can be used in spaghetti sauce, tacos, burritos, taco salad, ground beef casserole, chili, etc.
I usually make hamburger patties out of the remaining meat and freeze them for a quick dinner, but this time I made two batches of meatballs for the freezer (see my recipe here):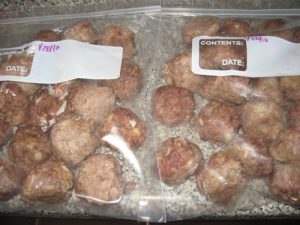 I now have several easy meals prepared which means I don't call to order pizza when I'm tired!
You May Also Enjoy: